Half a decade ago, few people knew where Puncak Alam was, and those who did thought it was on the other side of the world. City & Country took a drive there one recent morning, and along the way, saw gleaming modern buildings giving way to plantation land and kampung houses.
This article first appeared in theedgemarkets.com. View source here.
Formerly an oil palm estate under the Federal Land Development Authority (Felda) in a locality commonly known as Bukit Cherakah, Puncak Alam has become more vibrant and modern as new developments mushroom. Connectivity has improved by leaps and bounds and more amenities and facilities have been added.
Puncak Alam is a 14,000-acre township in the Kuala Selangor district that has the capacity for a population of 350,000, according to information provided by property agents.
It was developed by Bukit Cherakah Development Sdn Bhd in the late 1990s, but Puncak Alam Housing Sdn Bhd took over as the principal developer of the township in 2001.
Subsequently, Puncak Alam Housing parcelled out parts of the land for joint ventures with other developers, which resulted in numerous sub-townships. Currently, Puncak Alam comprises mainly the residential component, with a small portion for commercial and industrial purposes.
According to Landserve Sdn Bhd executive director Tan Kim Seng, Puncak Alam is bounded by undeveloped land, with the Kuala Lumpur-Kuala Selangor Expressway (Latar) and Bandar Tasik Puteri in the north, Jalan Sungai Buloh and Guthrie Corridor Expressway (GCE) in the east, Jalan Bukit Cherakah and Kampung Bukit Kapar in the south, and West Coast Expressway (WCE) in the west.
There is a wide range of amenities such as shopping destinations (Tesco and Econsave with Jaya Grocer in Eco Grandeur), primary and secondary schools (Sekolah Kebangsaan Puncak Alam and Sekolah Menengah Kebangsaan Puncak Alam), recreational facilities (Bukit Cherakah Forest Reserve and Puncak Alam Golf Driving Range) and shops, clinics, petrol stations and banks.
The township is strategically located northwest of the Klang Valley and easily accessible from all major conurbations, says MacReal International Sdn Bhd associate director Gan Boon How.
It is linked to the North-South Expressway, which is connected to GCE via Jalan Batu Arang, and Latar via Jalan Bukit Cherakah. From Kepong, Klang and Shah Alam, it is connected via Jalan Sungai Buloh, Jalan Bukit Cherakah and Persiaran Mokhtar Dahari respectively.
Two upcoming expressways that will connect to it are WCE and Damansara-Shah Alam Highway (DASH).
WCE will connect Puncak Alam to Klang and Banting in the south and Kuala Selangor and Taiping in the north. DASH will be the main link between GCE, New Klang Valley Expressway (NKVE), Damansara-Puchong Expressway (LDP) and Penchala Link. It will also be the main link between the township and Damansara, providing swift access to Petaling Jaya and Kuala Lumpur.
The most prominent landmark in Puncak Alam is the Universiti Teknologi MARA (UiTM) Puncak Alam campus, completed in 2009. A teaching hospital will be completed soon.
Nawawi Tie Leung managing director Eddy Wong says the university acted as a catalyst for development. It brought in other developers, which introduced new concepts such as integrated developments with gated and guarded facilities, lush landscaping and generous open spaces.
"These are targeted at the mid-range to higher-end segments of the market. Previously, developments there were predominantly of the lower-end to mid-range segments," he says.
Value for money
With UiTM and other tertiary institutions such as Universiti Selangor and Malaysia-Japan Technical University serving as a catalyst, Puncak Alam has become a hot spot for own stay or investment, according to Tan and Gan.
"Generally, Puncak Alam has a sustainable rental market driven by demand from UiTM students and staff," Tan says.
Gan says the asking rent is 30 sen to RM1.50 psf for a landed home and 50 sen to RM1 psf for a high-rise unit.
Tan notes that the township has commendable infrastructure, which includes a modern network of roads and highways that puts Puncak Alam within a 40-minute drive of Shah Alam, Klang and Kepong.
Wong concurs: "The improvement in infrastructure and connectivity adds to the appeal, as it does not seem too far away anymore."
Property consultants believe the low property price in Puncak Alam is the main attraction for homebuyers and investors.
"The types and prices of the properties offered are good enough and value-for-money compared with major cities within the Klang Valley," says Gan.
Suburban lifestyle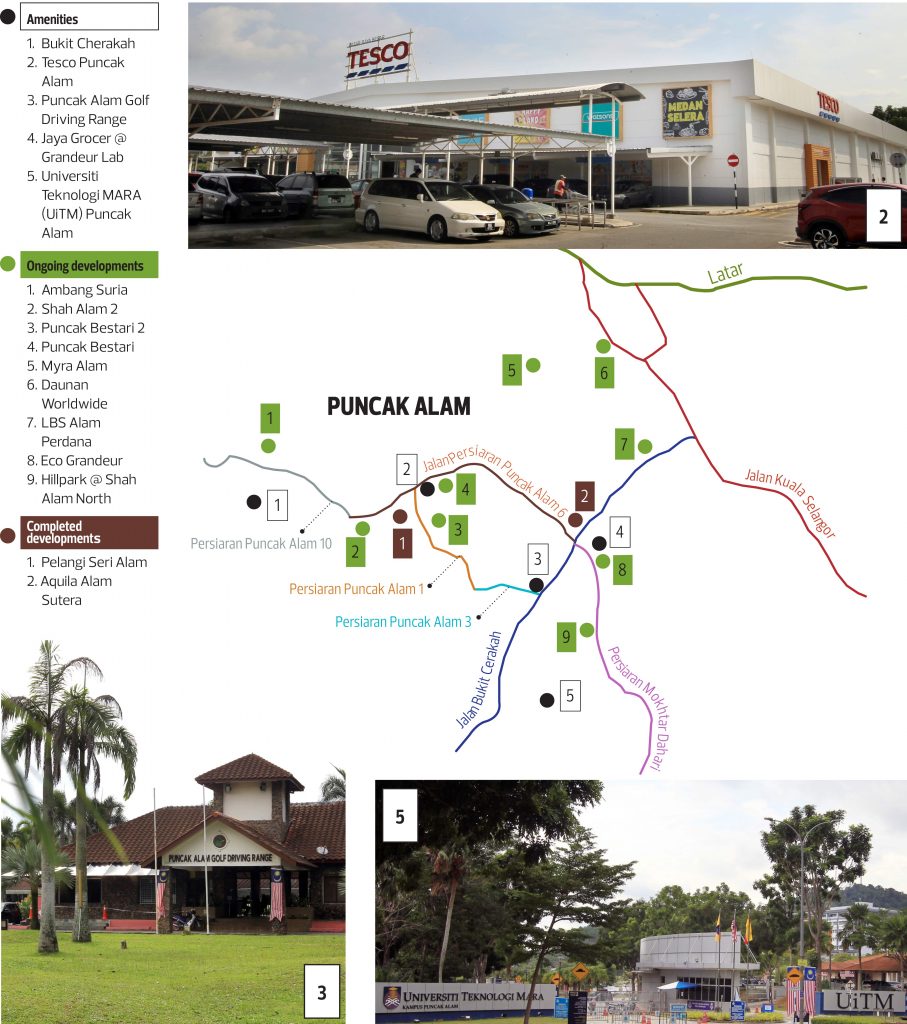 Puncak Alam has a good reputation among homebuyers, especially first-time purchasers looking for a suburban lifestyle, as there are ample facilities there, says Gan. "The property price is still reasonable and cheaper compared with those in urban areas in the Klang Valley."
He observes that the developers that have projects there generally target young married couples, the middle 40% (M40) and bottom 40% (B40) income group. "Within this township, buyers can still get a big house with an affordable price tag."
Another target group is staff from UiTM, some of whom prefer to stay in gated and guarded landed developments.
He also notes that there are retirees looking to buy in the area, owing mainly to the location, which is still relatively peaceful but yet not lacking in facilities and amenities.
Wong says the township attracts families with young children who are looking for affordable landed housing that is not too far away from the Kuala Lumpur city centre. "With property prices in Kuala Lumpur and Petaling Jaya beyond the reach of most of the younger generation, there is no choice but to look farther afield, especially for those who prefer landed housing."
He notes that this area is now more accessible and appealing, with the completion of Latar and GCE. "The trade-off is perhaps the choice between a landed property there and a smaller apartment closer to the city centre."
Meanwhile, Tan observes that properties such as 2-storey terraced houses and apartments in gated and guarded communities are seeing the most demand in Puncak Alam.
In the past decade, Gan points out, the improvement in infrastructure and amenities in the township has attracted many developers and the area is more vibrant now.
Developers with projects in the township include Eco World Development Group Bhd (EcoWorld) with Eco Grandeur; Worldwide Holdings Bhd with Puncak Bestari, Puncak Bestari 2 and Daunan Worldwide; and LBS Bina Group with LBS Alam Perdana. Others are IJM Land Bhd with Shah Alam 2 and Ambang Suria; Oriental Interest Bhd (OIB) with Myra Alam; MKH Bhd with Hillpark @ Shah Alam North and Pelangi Seri Alam; Guppyunip Group with Puncak Alam Jaya; and Perfect Eagle Development Sdn Bhd with Aquila.
Tan says: "These developers have transformed the area by introducing numerous types of houses with modern designs. This has gradually attracted medium-scale industrial developments and users to move to Puncak Alam. It is a corridor for growth, and we expect more homebuyers will consider buying and living there."
Gan concurs. "It has become a new growth area that is destined for bigger things, and this is evident in the growing presence of property developers there."
"Puncak Alam, together with Sungai Buloh, provides a viable alternative to home seekers looking for landed housing that is affordable and located not too far away from Kuala Lumpur or Petaling Jaya," says Wong.
Tan notes that, over the years, the secondary market has seen a growth in prices. For example, a 2-storey terraced house with a land area of 1,400 sq ft was transacted at RM490,000 this year versus RM410,000 in 2014, representing a 19.5% increase over a period of six years.
Last year, a 2-storey semi-detached house with a land area of 1,916 sq ft was transacted for RM475,000, an increase of about 8% from the RM440,000 recorded in 2015.
In addition, an apartment with a built-up of 680 sq ft saw a 27.3% increase in price from RM110,000 in 2015 to RM140,000 this year.
Need for mall and hospital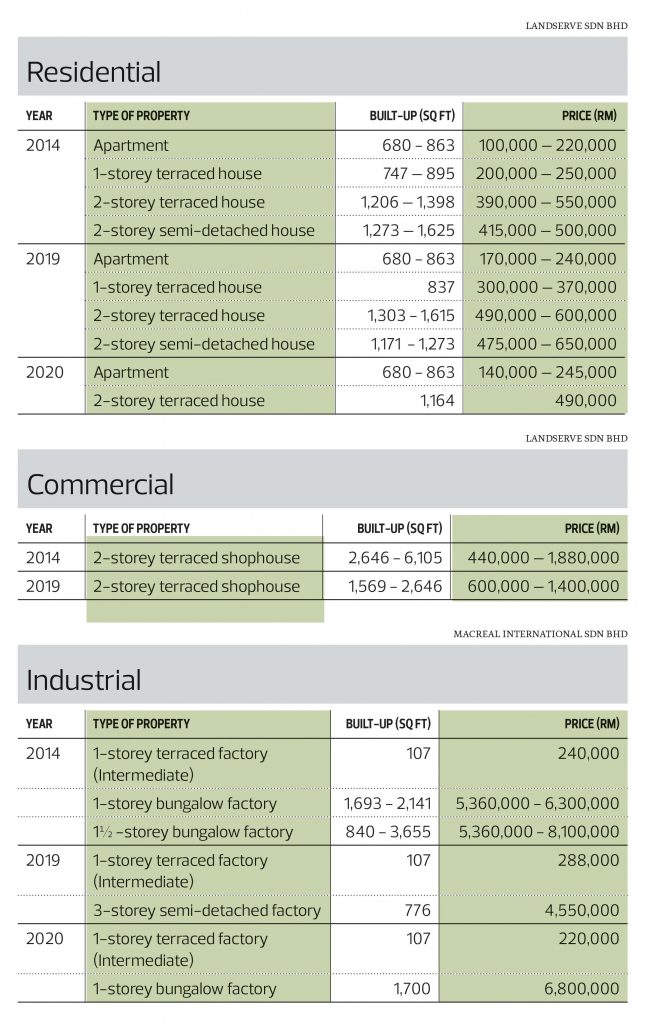 Wong says that while there is an absence of a shopping mall in Puncak Alam, Tesco, Econsave and convenience stores are available.
Gan says the nearest malls are probably Setia City Mall, Star Avenue Lifestyle Mall, 1 Utama Shopping Centre and IPC Shopping Centre, which are 20km to 30km away.
"Students and residents need to travel quite a distance to malls. Current or future developers in the township can look into developing a shopping centre for the residents. It will also attract more potential buyers or investors to the area," he says.
Gan also notes that there is a lack of medical facilities. The nearest are Hospital Shah Alam and Hospital Sungai Buloh, which are 27km and 31km away respectively. "More people would be attracted to the township if a new hospital were to be constructed," says Gan.
Tan agrees. "Given its growing population, it is about time for Puncak Alam to have a hospital."
He also observes that the population in the township has increased significantly over the decades. "Traffic can be heavy, with bottlenecks seen at Persiaran Mokhtar Dahari. We believe DASH and WCE will resolve this."
What the future holds
Despite the challenges, the future of Puncak Alam is positive and promising, say property experts.
"Given the improvement in road connectivity and amenities, Puncak Alam will become a more desirable residential address," says Tan.
Gan agrees: "It has the potential to become a township for young families. Meanwhile, the new developments that possess commercial and industrial components will be able to attract industry players, and that will create more job opportunities and spur the local economy. Soon, the area will see an increase in population, and an improvement in living standards and the environment."
As for Wong, he says, "A preference for landed housing will continue to be a top priority in the purchase consideration for most Malaysians, apart from the price point of the property, the location and its accessibility. Puncak Alam ticks all the boxes in this regard."