PETALING JAYA (November 2): From oil palm and rubber plantations into a modern industrial city, Shah Alam today is also a top choice for young families and professionals to live especially those who work in the Western corridors of the Klang Valley.
This article first appeared in edgeprop.my. View source here.
Since it became the capital city of the state of Selangor in 1963, its boundaries have expanded from 41.69 sq km to 290.3 sq km consisting of 56 Sections. Situated between Petaling Jaya and Klang, the city recorded 3,963 property transactions in 2018, more than its neighbours — Puchong (2,576), Klang (3,381) and Subang/USJ (1,467).
Its growing population has fuelled housing demand and the city which celebrated its 19th year as a city on Oct 10 this year is now home to over 650,000 people. According to Shah Alam City Council, Shah Alam's population has grown by 38.5% after it gained city status in 2000.
Unlike Kuala Lumpur and Petaling Jaya cities which have grown organically, Shah Alam is a structured master-planned city. Different Sections have been developed thematically such as sports, education, government administration centre and industrial developments, says Nawawi Tie Leung managing director Eddy Wong.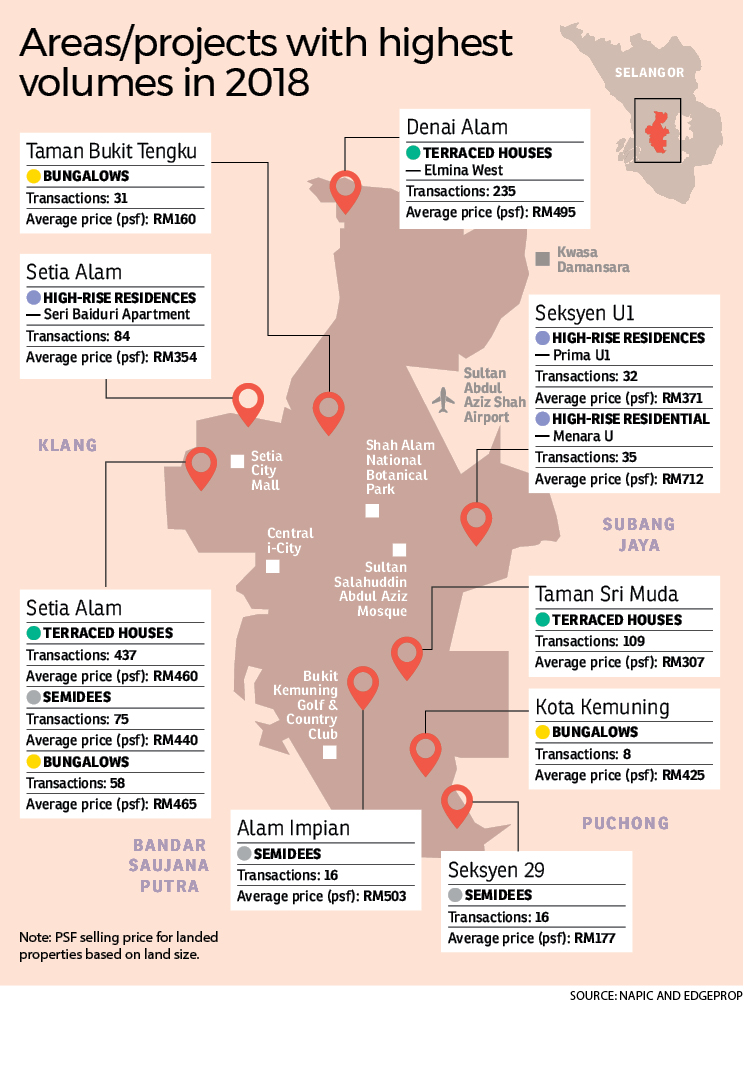 "Housing developments are generally low density in a pleasant green environment with recreational parks like the Shah Alam National Botanical Gardens, the Setia Alam Central Park and several golf courses. It offers an environment that promotes work-life balance," Wong tells EdgeProp.my.
Hence, he notes that healthy living has become a catchphrase commonly used by property developers when positioning their developments in Shah Alam.
PA International head of research and project marketing consultant Evelyn Khoo finds that the city has evolved in recent years in line with rising demand from its citizens especially for retail and leisure.
"Shah Alam was once perceived as a Malay area due to large tracts of Malay reserve land here but it has become more multi-racial over the years. Coupled with new housing projects that target young homebuyers, commercial activities have grown and Shah Alam is becoming more vibrant and diverse," she says.
Setia City Mall, Central i-City shopping mall, Space U8 Mall and the upcoming Sunsuria Forum@7th Avenue offer plenty of entertainment, F&B and retail offerings.
They have become the go-to places for residents in Shah Alam especially during the weekends. The malls even attract people from Klang and Subang Jaya, adds Khoo.
Families with children will also appreciate the many schools and educational institutions located in Shah Alam including the Tenby International School in Setia Alam, the Chinese Taipei School Kuala Lumpur in Bukit Rimau, Maz International School in Seksyen 7, R.E.A.L International School, Sekolah Seri Cahaya in Seksyen U9, Management & Science University in Seksyen 13 and KDU University College in Utropolis Glenmarie.
"Young families or wage earners who choose to live here are no longer eyeing affordable or cheaper alternatives. More and more homebuyers are searching for premium residential properties with lifestyle offerings in Shah Alam," says Reapfield Properties (KL) Sdn Bhd real estate negotiator Hayati Husin.
Besides, she adds, there has been more enquiries for en-bloc purchase of office buildings for own-use or investment reflecting Shah Alam's attractiveness to investors.
Prices continue to climb
The average transaction prices of residential properties in Shah Alam seem to have peaked over the years 2015/16. Nevertheless, property prices here have significantly increased from 2012 prices.
EdgeProp.my data shows that the average transaction price of a terraced house in Shah Alam was at RM329 psf in 2012 (by land area size), peaking at RM418 psf in 2016 before declining to RM389 psf in 1H2019. Despite the recent price dip, the current value of terraced houses has risen 18% overall compared with 2012.
Meanwhile, the average transacted prices of semidees and bungalows were at RM403 psf and RM361 psf respectively in 1H2019, an increase of 8% and 7%, from RM373 psf and RM337 psf in 2012.
As for high-rise residences, the average transaction price has jumped 75.5% to RM441.50 psf in 1H2019 from RM251.50 psf in 2012.
In terms of sales volume, terraced houses and high-rise residences were the most transacted properties, followed by semidees and bungalows.
Of the 3,963 transactions recorded in 2018, close to 45% or 1,769 cases were terraced houses, 215 were semidees and 145 were bungalows while over 18% or 726 transactions were high-rise homes.
Khoo from PA International points out that Shah Alam has more affordable properties compared with mature residential areas like Subang Jaya and Petaling Jaya.
Citing transactions made in 1H2019, Khoo reveals that one 2-storey terraced house with a land area of 1,647 sq ft in Ara Damansara was sold for RM1.3 million (or RM789 psf), while a 2-storey terraced house in Bukit Jelutong (land area of 1,916 sq ft) changed hands for RM890,000 or RM465 psf.
Highest transacted price in 1H2019
i-Residence in i-City, Suria Jelutong in Bukit Jelutong and the Vista Alam serviced apartment in Seksyen 14, Shah Alam, were the top three high-rise residential property transactions in 1H2019.
According to EdgeProp.my data, among the 28 concluded residential deals recorded in 1H2019, i-Residence saw two units sold at an average price of RM592 psf (unit price RM274,000); while Suria Jelutong and Vista Alam had one transaction each, priced at RM531 psf (unit price of RM480,000) and RM516 psf (unit price of RM400,000) respectively.
Meanwhile, terraced houses in TemasyaGlenmarie saw two units sold at an average price of RM691 psf based on land area size or RM1.7 million in 1H2019, the highest price recorded for terraced houses in Shah Alam in 1H2019.
A terraced house in Subang 2, Seksyen U5 came in second, changing hands at RM561 psf or RM670,000; while Cahaya Alam in Seksyen U12 was next with two terraced houses transacted at an average RM512 psf or RM843,000.
The most expensive semidee which was sold in 1H2019 was in Alam Impian, with three semidees sold at an average RM481 psf or RM1.53 million.
Kemuning Greenhills had two concluded deals with an average price of RM469 psf (or RM1.05 million), while Setia Alam had three semidees sold at an average of RM464 psf (or RM1.66 million).
As for bungalows, the highest transacted average psf selling price in 1H2019 was a bungalow with a land area of 1,798 sq ft and built-up of 2,228 sq ft in Setia Alam sold for RM522 psf or RM938,000. The next highest average transacted price for bungalows was recorded over in Kota Kemuning where two bungalows were sold at an average price of RM465 psf or RM2.1 million.
In terms of preferred locations or projects, the 2018 transaction data showed that
Setia Alam topped the list, recording the most transactions in 2018.
Other popular areas include Seksyen 13, Seksyen U1, Elmina West at Denai Alam, Taman Sri Muda and Kota Kemuning.
Outlook
Located about 30km away from Kuala Lumpur city centre and about 20km from Port Klang, Wong says, Shah Alam's strategic location gives its industrial sector an advantage and as long as industries here thrive, they will have a spillover effect on housing, retail and services, education and leisure and entertainment.
Besides its housing affordability, availability of jobs and its student population also contribute to strong rental demand in Shah Alam, hence, attracting investors who are looking for rental returns.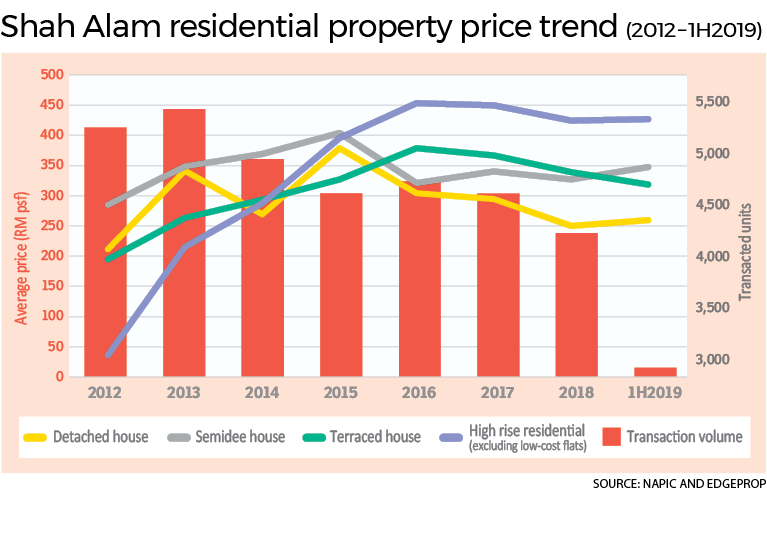 Khoo reckons that established townships or master-planned gated-and-guarded communities, such as Setia Alam, Kota
Kemuning, Glenmarie, Section 13 and Seksyen U1, U2, U5 and U8, will attract homebuyers.
Another growth catalyst for the city is the Bandar Utama-Klang Light Rapid Transit 3 (LRT 3) line which is slated to be completed in February 2024.
The 37.6km LRT 3 line which connects Bandar Utama to Johan Setia in Klang, will improve the working population's mobility to major hubs in Petaling Jaya and Kuala Lumpur, says Khoo.