The Home Ownership Campaign (HOC), which ended on Dec 31 last year, was a catalyst for sales in the primary property market in Penang in 4Q2021. Nawawi Tie Leung Property Consultants Sdn Bhd executive director and regional head for research and consulting Saleha Yusoff says discounts and freebies offered in the primary market were the reason for the heightened sales activity.
This article first appeared in theedgemarkets.com. View source here.
"The Covid-19 pandemic has also improved the purchasing power of buyers, as most households spent less of their household income on entertainment, attire, travel and holidays," she says in presenting The Edge | Nawawi Tie Leung Penang Housing Property Monitor 4Q2021.
"In addition, most of the affordable apartments are now equipped with condominium facilities, such as 24-hour security with CCTV, a swimming pool, gymnasium and children's playground. The younger generation prefers new properties with facilities and lifestyle concepts and better security features, with less hassle and lower cost for the upkeep and maintenance of units."
She observes that, as there are many new low-medium-cost and affordable housing projects in the mid-market segment, with prices ranging from RM400,000 to RM600,000, it may be more of a challenge to transact subsale properties in this range.
"The secondary market is [still] active, especially for those properties completed less than 10 years ago in a good location and that are well maintained. Demand for these properties is quite strong, as the value is sustainable, with room for appreciation. [However, properties that are more than 20 years old and not well maintained have shown a drop in prices," she says.
In the quarter in review, Saleha notes that there were two notable launches in Penang: S P Setia Bhd's Casa Rica at Setia Greens in Sungai Ara; and Runnymede Group's Triuni Residences (Tower C) @ The Sanctuary in Batu Uban.
Launched last November, Casa Rica offers 38 two- and three-storey semi-detached houses priced from RM1.94 million to RM2.44 million.
Meanwhile, the 184-unit Triuni Residences (Tower C) was launched last December, with built-ups ranging from 1,140 to 1,940 sq ft and prices from RM630 psf.
The Ascott Ltd, a wholly-owned subsidiary of CapitaLand Investment, opened its first serviced apartment in Penang, called Sky Residence Prai, in 4Q2021. Located in Bukit Mertajam, near Icon City and Juru Sentral, it comprises 168 fully furnished units ranging from studios to two-bedroom apartments.
Meanwhile, Intel Corp held the groundbreaking ceremony for its new production facility at Free Trade Zone Phase 3, Bayan Lepas Industrial Park, on Dec 17. The RM30 billion expansion project consists of several buildings and is expected to begin operations in 2024.
Saleha notes that Intel's expansion has strengthened Penang's position as a preferred investment destination, supported by its well-developed industrial ecosystem and infrastructure as well as the availability of skilled local talent.
"In addition, Penang is a top expatriate destination, as it offers a blend of modern living with beaches and natural environment," she says.
Happenings in 1Q2022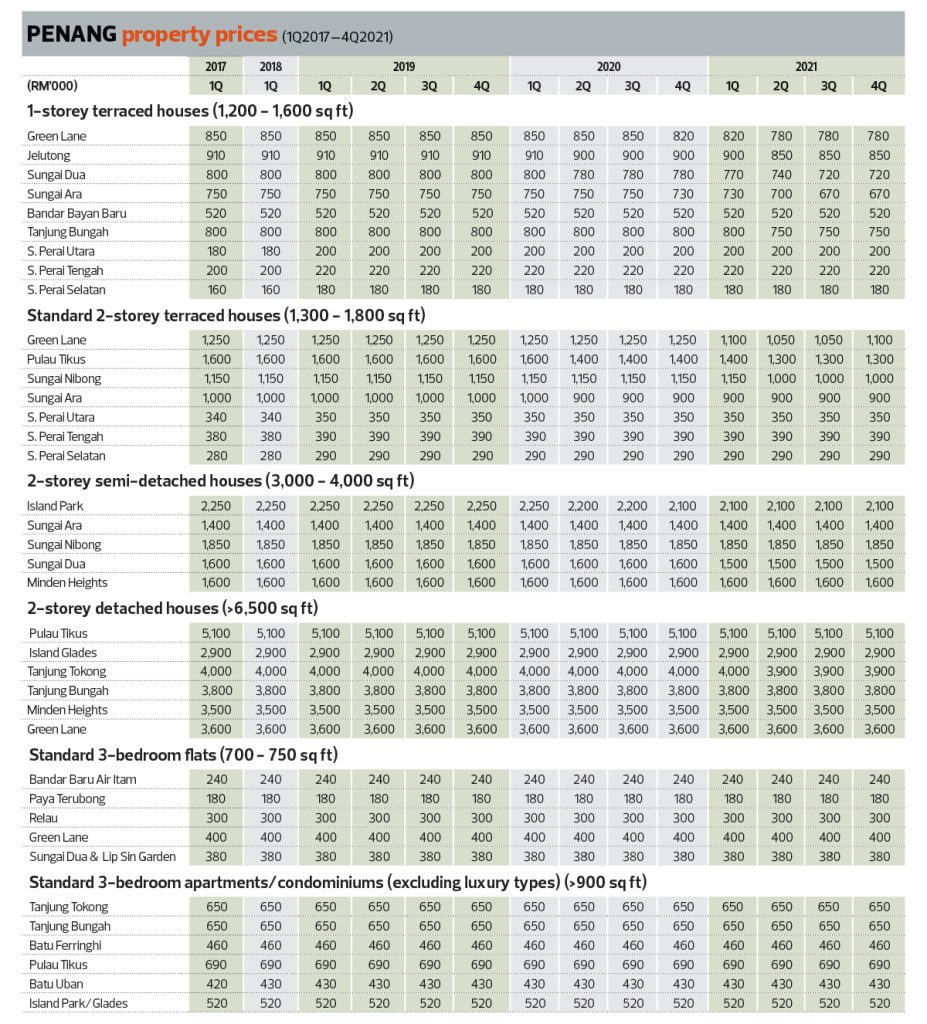 Saleha expects several positive events in Penang in 1Q2022, including the soft launch of Rackson Group's mixed-use project Penang Gateway and the development of Titijaya Land Bhd's Medi-Tech City.
"Penang Gateway is a transport-oriented development that will include an office tower, serviced suites, wellness apartments, medical suites and a wellness centre. A link bridge will connect the development to the upcoming Light Rail Transit (LRT) station at Penang International Airport, a retail outlet and the airport," she says.
"The project will be developed in two phases — phase 1 comprises a hotel, serviced suites and retail components. The 200-room hotel, Le Meridien Penang Airport, is scheduled to be opened in 2026. There will be about 600 serviced suites, with sizes of 488 to 988 sq ft."
Titijaya Land has signed a memorandum of understanding with Penang Development Corp (PDC) for the development of Medi-Tech City, which will occupy a 93.07ha plot in Batu Kawan and has a gross development value of RM9.9 billion. Upon completion in 10 years, she notes, Medi-Tech City will serve as a medical hub providing ecotourism and global business services, with facilities such as a hospital, medical campus, medical supply hub, rehabilitation centre and corporate suites.
The Bukit Kukus Bypass, which was finally opened last month and is part of the 3.8km Paya Terubong Paired Road project, will help ease congestion on the island. "The project took six years to complete and went through delays due to landslides, the Covid-19 pandemic and other technical issues that involved extra work," Saleha says.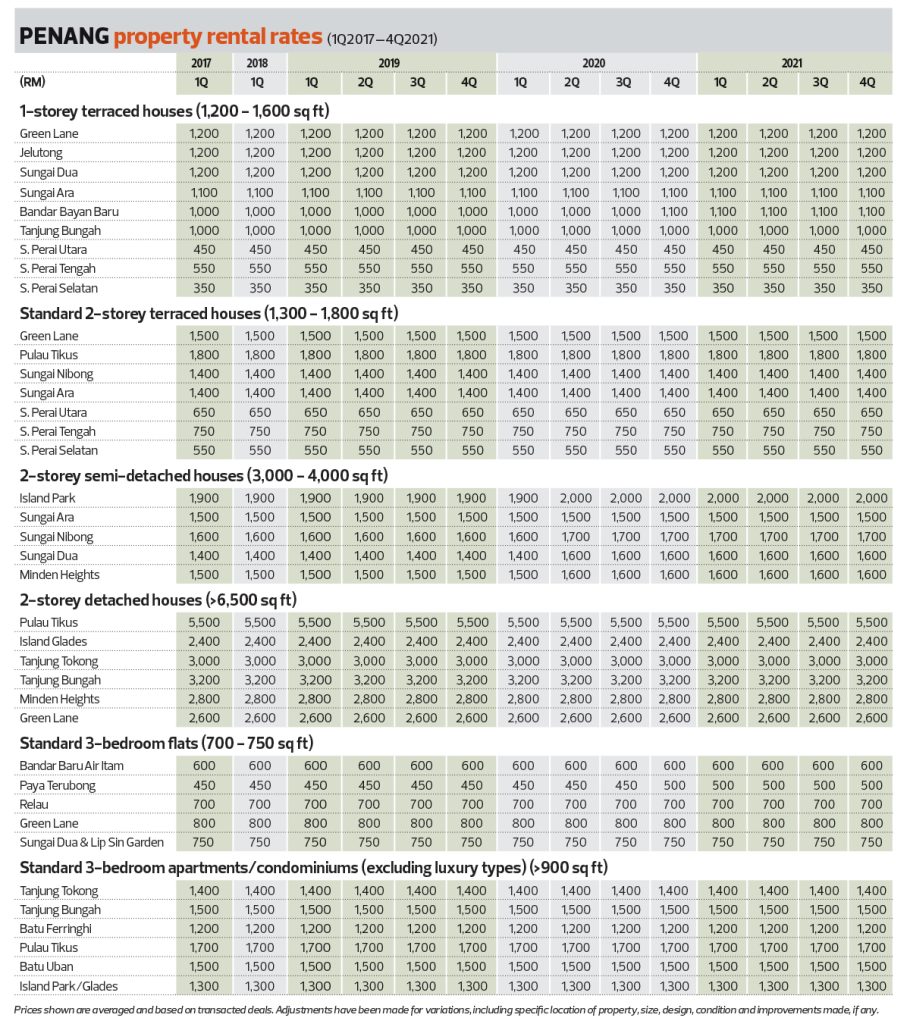 "The road project will reduce the travel time between Air Itam and Relau to just five to 10 minutes, from the current 20 to 30 minutes. It will serve the residents in the high-density development projects in Paya Terubong and Air Itam up to Bukit Jambul, Bukit Gambir, Balik Pulau and their surrounding areas. At a height of 60m, the bypass is the country's highest elevated road, overtaking the 58.2m Rawang Bypass."
Saleha says 1Q2022 will also witness the entry of Simmtech — South Korea's leading global manufacturer of printed circuit boards and packaging substrate for semiconductors — with the completion of its largest factory in Southeast Asia.
Located at the Batu Kawan Industrial Park, Simmtech's factory, whose Malaysian subsidiary Sustio Sdn Bhd has invested a total of RM508 million in it, is expected to create more than 1,000 high-skilled jobs in engineering, manufacturing and quality management when it commences operations in 1H2022.
Micron Technology Inc also announced an investment of RM1 million in semiconductor materials, smart manufacturing and artificial intelligence to strengthen collaboration and R&D projects with local universities over the next five years.
"USM is the first university partner to receive funding from Micron, and this collaboration will enhance the engineering skills of potential local workers," Saleha says.
Penang property market
Data from the Penang Housing Property Monitor 4Q2021 shows that the performance of the schemes sampled was mostly flat. Only standard 2-storey terraced houses (with built-ups of 1,300 to 1,800 sq ft) in Green Lane saw an increase of RM50,000 to RM1.1 million in prices in the quarter in review.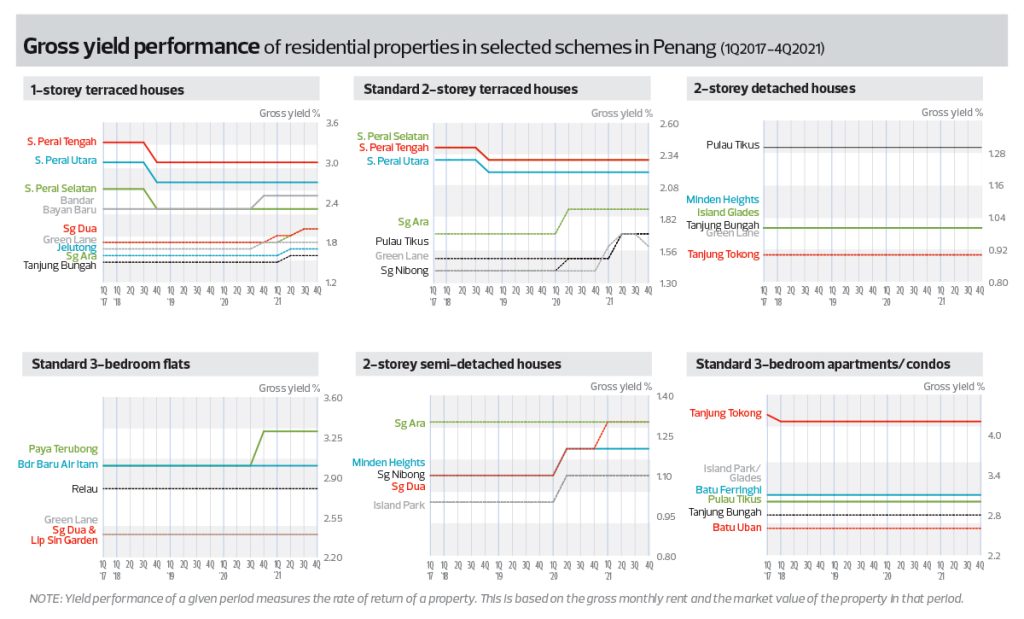 Saleha notes that prices of 1-storey terraced houses, especially in the older schemes in Jelutong, Sungai Dua and Sungai Ara, have declined since the start of the pandemic in early 2020. As at 4Q2021, the year-on-year decline ranged from 5% to 8%.
"A similar trend was noted for standard 2-storey terraced houses, where prices were at their highest between 2016 and 2019 and declined 7% to 13% y-o-y in 4Q2021. Prices of 1-storey terraced houses and standard 2-storey terraced houses on the mainland remained stable, as most of the units were purchased for own occupation," she says.
"Prices of 2-storey semi-detached houses remained unchanged q-o-q and y-o-y, after a slight drop between 2019 and 2020. Prices of detached houses have remained stable since 2016, ranging from RM3.5 million to RM5.1 million each."
Meanwhile, prices of standard 3-bedroom flats also remained unchanged, ranging from RM180,000 to RM400,000 each. Prices of standard 3-bedroom apartments/condominiums were also unchanged, ranging from RM430,000 to RM690,000 each.
Saleha observes that, overall in 2020, the pandemic left a small dent in price movement, which appeared to have stabilised in 4Q2021 as the market rebounded.
"Prices in the secondary market have not appreciated, especially for condominiums priced between RM400,000 and RM600,000, as new developments offer better facilities, security and design/layout in the same price range. Meanwhile, rents and yield remained stable," she says.
"Flats and low-cost flats continued to make up the bulk of residential supply in Penang, followed by terraced houses. Almost half of future supply is expected to be contributed by high-rise units. We also see strong demand for low-cost housing and terraced properties, especially for units priced between RM400,000 and RM500,000."