Batu Kawan, located in Seberang Perai Selatan on the Penang mainland, was earmarked as the next growth area for the state a while back. The opening of the Sultan Abdul Halim Muadzam Shah Bridge in 2014 provided even greater impetus for its development.
This article first appeared in theedgemarkets.com. View source here.
How has Batu Kawan fared thus far, and is the outlook for the area still as positive as it was before the pandemic? Property experts recall how the area got its start and point out what homebuyers and investors should take note of moving forward.
According to Saleha Yusoff, executive director and regional head of research and consulting at Nawawi Tie Leung Property Consultants Sdn Bhd (NTL), Seberang Perai Selatan was the most undeveloped district in Penang in the 1980s.
"In 1989, the then Penang chief minister, the late Tun Lim Chong Eu, instructed the Penang Development Corporation (PDC) to identify an area in Seberang Perai Selatan to be developed into an economic hub. In 1990, the state government acquired Batu Kawan, formerly an oil palm plantation owned by Batu Kawan Bhd," she says.
"With more than 6,781 acres, Batu Kawan was selected as a new growth centre due to its strategic location. About 6,326 acres of land is owned by PDC and branded as Bandar Cassia.
"The completion of the second Penang bridge enhanced the appeal of Batu Kawan, driven by the better connectivity and access from the southern part of the mainland to the island. This connectivity has also become a pull factor to attract homebuyers from the island to Bandar Cassia."
With the opening of the new bridge, property development started to increase in the area and in 2014, PDC launched the first component — a 200-acre site planned for 11,800 units of affordable housing. The first phase (Suria 1) saw 530 units completed in 2018.
"PDC also introduced Batu Kawan Industrial Park (BKIP) to attract high-technology and skill-intensive industries to the area. According to PDC, there are about 3,000 acres still available for development," says Saleha.
The remaining 7% of 6,781 acres is privately owned.
"In its latest statement, PDC said Batu Kawan would be fully developed in the next 15 years, or potentially by 2036, anticipating a future population of about 250,000 with 45,000 to 50,000 housing units. Amid the Covid-19 pandemic, the development plans for Bandar Cassia remain in progress, although at a slower pace," she notes.
According to Landserve (Penang) Sdn Bhd executive director Ooi Choon Seong, the Penang government wanted to create a new township. "The objective of the state government is to develop Bandar Cassia — Batu Kawan's new township — into an eco-city that consists of residential, commercial, industrial and recreational developments as well as infrastructure and institutions that can create sustainable growth with the highest social, economic and environmental quality of life for its residents.
"The property development in Bandar Cassia has become more mature since 2010. Nowadays, residential developments, from affordable housing to luxury condominiums, serviced apartments and landed homes, can be found in Bandar Cassia. The projects include Suria @ Hijau E-Komuniti, Vertu Resort, ­Viluxe, Suasana Commercial Suites @ Utropolis and Ashton @ Eco Horizon.
"Completed commercial developments include The Design Village, Vervea @ Aspen Vision City, Sensasi @ Utropolis, Borealis @ Eco Horizon and IKEA Batu Kawan while the education centres include UOW Malaysia KDU campus and The Ship Campus."
Savills Malaysia group managing director Datuk Paul Khong says, "Currently, Batu Kawan consists of vacant industrial plots, individually designed factories and warehouses, shopoffices and residential developments, both landed and high-rise buildings.
"Under Malaysia's Budget 2021, the industrial areas of Batu Kawan in Penang and Kulim were highlighted as investment locations for high-technology industries in the high-value-added segments.
"Some of the larger industrial companies and major global brands include ViTrox Technologies Sdn Bhd, Boon Siew Honda Sdn Bhd, Hewlett-Packard Malaysia Manufacturing Sdn Bhd, Inari Technology Sdn Bhd, Boston Scientific Medical Device (Malaysia) Sdn Bhd and Western Digital Malaysia Sdn Bhd.
"This integrated mixed-use development township is a new residential, commercial and industrial hub, which is well anchored by the Swedish home furnishing retailer IKEA. The Design Village Outlet Mall, Aspen Vision City, Eco Horizons and other upcoming projects, such as Columbia Asia Medical Centre, KDU University College and Utropolis, are also in the mix."
Activities in Batu Kawan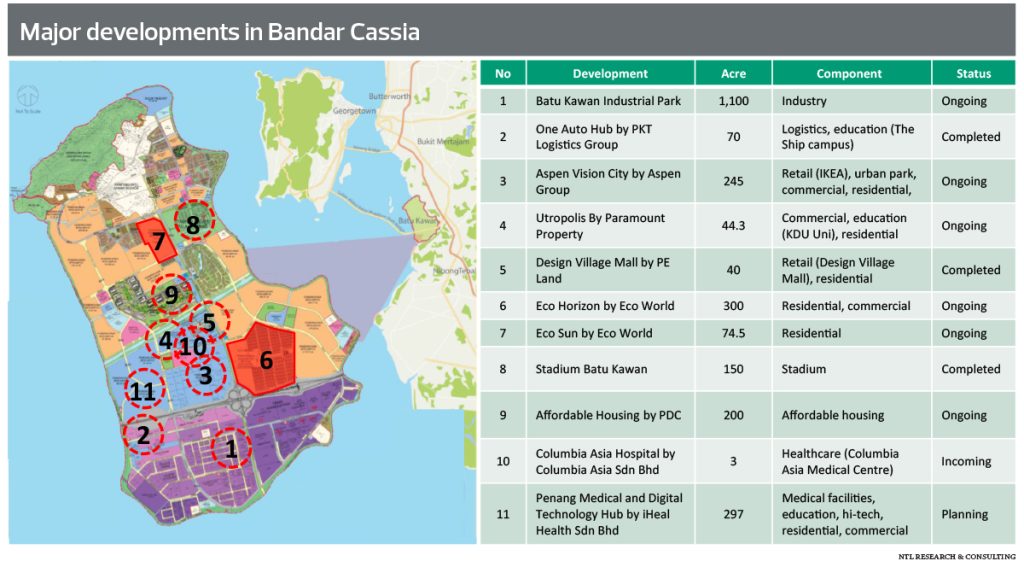 Property development activities have slowed across the country due to the lockdowns brought about by the pandemic. However, the situation in Batu Kawan is improving.
According to Khong, the three leading property developers in the area are Eco World Development Group, with Eco Horizon; Aspen Group, with Aspen Vision City; and Paramount Property, with Utropolis Batu Kawan. Each of them has developed an array of property types, from terraced and semi-detached houses to bungalows, superlink homes and townhouses. Offices and high-rise residential buildings have also been developed.
NTL's Saleha observes that these developers have launched a total of about 3,900 units across their residential projects. These include Camdon and Beldon Collection at Eco Horizon; Vivo Executive Suites and Viluxe at Aspen Vision City; Sinaran @ Utropolis; and Anggun Residences by PE Developments Sdn Bhd. Some of these projects have a take-up rate of 50% to 95%. Commercial project Sinaran Avenue @ Utro­polis by Paramount Property has also been launched.
Landserve's Ooi observes that the projects of the three main developers have seen encouraging take-up rates.
Developed by Aspen Group, Vertu Resort's 1,030 sq ft units have a starting price of RM542,500 and a take-up rate of 90%; the Vivo Executive Apartments, with built-ups of 730 sq ft and priced from RM339,000, have a take-up rate of 70%; and Viluxe, 2-storey stratified terraced houses with a land area of 1,400 sq ft and gross floor area of 2,300 sq ft that sell for RM860,300, have seen 80% of the units sold.
Developed by EcoWorld, Eco Horizon's Camdon landed homes, which have a minimum floor area of 1,200 sq ft and a starting price of RM426,000, have a take-up rate of 85%. Beldon offers two variants: 2-storey semi-detached homes and 2-storey bungalows. The former come with a land and gross floor area of 2,550 sq ft and a selling price of RM1.208 million, with a 50% take-up rate so far. The bungalows, which have a land area of 4,000 sq ft and a gross floor area of 4,760 sq ft, are priced at RM1.84 million and are 60% sold.
The units at Paramount's Suasana @ Utropolis have a minimum floor area of 926 sq ft and a selling price of RM509,200. They have seen a strong take-up rate of 98%. The units at Sinaran @ Utropolis start from 667 sq ft and a price of RM468,000. Some 50% of the units have been taken up so far.
Strong industrial demand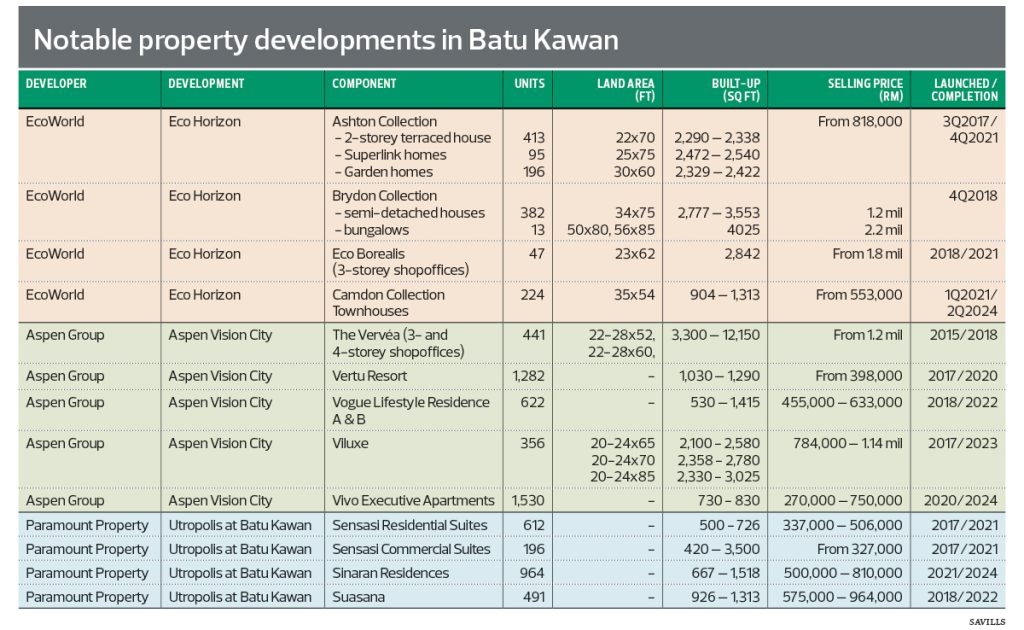 The industrial sector in general has been the star of the property industry since the pandemic started and Batu Kawan is reaping some benefits from this trend.
According to Khong, "The state government has announced that PDC will be developing 1,156 acres in Byram, Nibong Tebal, as Batu Kawan Industrial Park 2 (BKIP2)."
Ooi observes, "The Penang chief minister has emphasised the state government's plan to get ready more industrial land to support the increasing demand over the next 10 to 20 years. The new industrial park will be extended to the south and east of the current BKIP.
"The state government is also targeting the development of a medical hub on the west coast of Bandar Cassia. The proposed site is located to the west of IKEA."
Khong confirms this and says, "iHeal Health Sdn Bhd is looking at a 'Penang Medical and Digital Technology Hub' in Batu Kawan and aims to promote the state as an Asean hub for digital medical technology.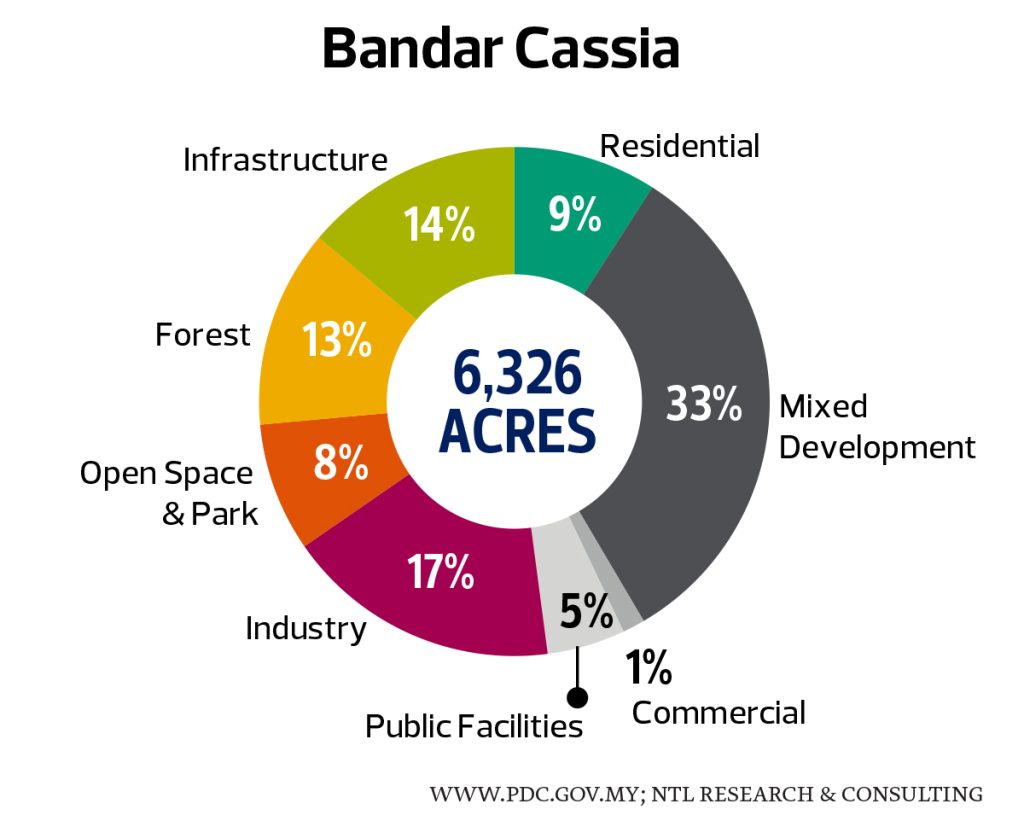 "There are plans for medical centres, software companies, high-tech industries, higher learning institutions as well as housing and commercial projects. This master-plan concept is in its early stages and iHeal will carry out a thorough study on the overall concept for PDC's final approval."
Saleha concurs, highlighting that the hub by iHeal will span 296 acres and be located on the western side of Aspen Vision City.
She also says PDC plans to set up two or three hospitals. Currently, two healthcare facilities are being planned, a government hospital and Columbia Asia Batu Kawan. The latter will be a 7-storey building with 140 beds and an 8-storey parking facility. It will be the second Columbia Asia Hospital in the northern region, after the one in Taiping, Perak.
On other future projects, Saleha says these include a shopping mall that will be integrated with IKEA and a hotel and offices in Aspen Vision City. The Aloft Hotel will be the first international hotel in Batu Kawan, with 308 rooms and managed by Marriott International.
Offices will be in the Vittoria Financial Centre, she adds. It will feature five blocks of 8-storey commercial buildings and a 10-storey tower with 231 office suites for a total net lettable area of 200,000 sq ft. The target companies include start-ups, financial institutions, telecommunications companies, multinational corporations and private organisations.
Khong also highlights the Aloft Hotel and Columbia Asia Hospital, as well as several industrial products that will be developed from this year onwards. These include Greatech's new plant and several manufacturing facilities of Ultra Clean Holdings, Dexcom and JHM Consolidation Bhd.
Outlook
Moving forward, Batu Kawan is expected to continue growing, particularly on the industrial front.
Says Khong, "The long-term prospects of Batu Kawan are positive given its master plan, strategic and natural location at the south end of Penang and its proximity to the second Penang bridge. The growing BKIP is one of the job centres for the population."
For Ooi, "The Movement Control Order 1.0 and 2.0 indirectly impacted sales in most property developments, either locally or nationally. However, with the dynamic growth of BKIP, hopefully this can further increase the demand for various categories of property within the immediate neighbourhood, especially those located in Bandar Cassia. We hope to see the overall developments blossom in the future."
Echoing a similar outlook, Saleha says, "Industrial activities will continue to be the key economic drivers in stimulating growth in population and employment in Bandar Cassia. This growth will be driven by semiconductor and semiconductor-related industries, wafer fabrication equipment and critical subsystems, 5G, automotive electronics and medical technology.
She adds that BKIP2 in Nibong Tebal will "enhance the ecosystem for the industrial supply chain, attracting local and foreign companies" and will only create more job opportunities.
"By 2040, the population of Penang is projected to grow to 2.1 million — the 2021 estimate is 1.8 million. With the growing population and improvement in household income, there will be stronger demand for good housing, retail, healthcare, education as well as leisure and entertainment," says Saleha.