Q2 2022 Real Estate Times Malaysia
Uneven recovery following supply chain disruptions, global inflation, and rising interest rate
Key Highlights:
The first quarter of 2022 saw the national economy rebounded with 5.0 per cent growth compared to -0.5 per cent recorded in the same quarter preceding year. The positive trajectory was driven by improved domestic demand as economic activities continued to normalise following the easing of Covid-19 containment measures.
On the supply front, the Services and Manufacturing sectors continued to anchor the national economic growth, with an expansion of 6.5 per cent and 6.6 per cent, respectively. The Agriculture sector grew marginally by 0.2 per cent. However, the Mining & Quarrying and Construction sectors remained in contraction with -1.1 per cent and -6.2 per cent, respectively.
The improvement in the economic performance was also reflected by the positive movement in the labour market. There was a higher demand for labour, reducing the number of unemployed persons by 100.6 thousand persons to 671.2 thousand. The unemployment rate dropped from 4.8 per cent (Q1 2021) to 4.1 per cent in Q1 2022.
The headline inflation during the first quarter moderated to 2.2 per cent (Q4 2021: 3.2 per cent), attributed to the small contribution from the dissipating base effect from lower domestic retail fuel prices last year.
Business Conditions Index (BCI) declined to 101.0 points, attributed to lower domestic and external demand, which resulted in a drop in sales and industrial production volume.
On the contrary, consumer sentiment, measured by Consumer Sentiment Index (CSI), breached the 100-point threshold level to 108.9 points in Q1 2022. This was driven by better job prospects and improvement in incomes.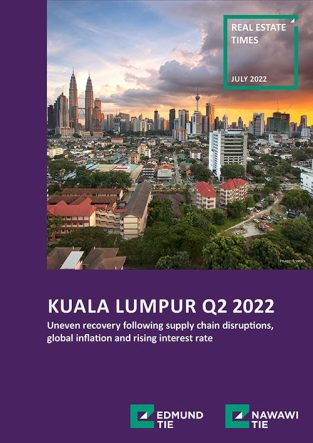 Get the report
Complete this form to download
By submitting the form above, you agree to Nawawi Tie Leung's Data Protection Policy.