Q2 2020 Real Estate Times Malaysia
Investors remain vigilant in the midst of Economic Recovery Plan
Key Highlights:
The Malaysian economy grew at 0.7 per cent in Q1 2020 (Q4 2019: 3.6 per cent), the lowest since the contraction of 1.1 per cent in Q3 2009.
Labour market softened with unemployment rising to 3.5 per cent (Q4 2019: 3.3 per cent) due to the weaker global demand, exacerbated by the extended phases of the Movement Control Order (MCO).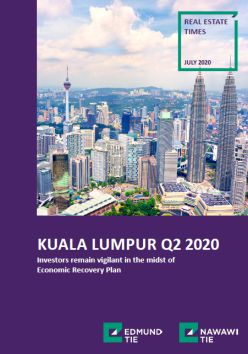 Get the report
Complete this form to download
By submitting the form above, you agree to Nawawi Tie Leung's Data Protection Policy.