Q1 2020 Real Estate Times Malaysia
A perfect storm, a weakened market meets political and health crisis
Key Highlights:
Malaysia's economy moderated to 3.6 per cent in Q4 2019 (Q3 2019: 4.4 per cent). The slower growth momentum in the second half of 2019 resulted in a subdued overall growth for the year at 4.3 per cent.
It was the lowest growth since the Global Financial Crisis in 2009, which was attributable to lower output of palm oil, crude oil and natural gas, and a fall in exports amid the US-China trade war.
The labour market was strong, with the unemployment rate unchanged as the previous quarter at 3.3 per cent or 525,500 people.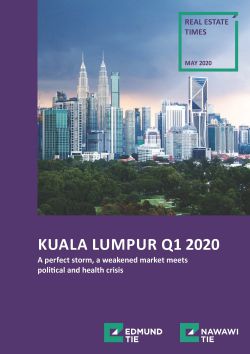 Get the report
Complete this form to download
By submitting the form above, you agree to Nawawi Tie Leung's Data Protection Policy.