Terraced houses and condominiums enjoyed some of the best returns and capital appreciation prior to the influx of high-rise units in the Klang Valley property market in the mid-2000s, says PPC International Sdn Bhd managing director Datuk Siders Sittampalam. Rents generally declined owing to the increased supply, he adds.
This article first appeared in theedgemarkets.com. View source here.
"Owing to the rising cost of land, developers adopted vertical development. The growing population and demand for housing led to the growth of high-rise developments, and land for development became scarce and costly," Siders says.
On top of the persistent soft market, last year had been challenging to both the economy and the property market generally, owing to the Russia-Saudi Arabia oil price war, US-China trade war, change in government in Malaysia and the Covid-19 pandemic, Siders notes. "The real estate market [saw] declining sales volume, capital values and rental returns or yields.
"Prior to all these [events], rental yields for high-rise residential properties could go up to 6% to 8%, whereas that for landed properties were between 3% and 5%. Currently, the average rental yields that can be achieved are 4% to 5.5% for high-rise residential properties and 2% to 4% for landed properties," he notes. "Properties with higher asking rents and lower asking prices will usually have higher rental yields. These properties are normally in mid-end residential developments with good locations and accessibility."
Nawawi Tie Leung Real Estate Consultants Sdn Bhd managing director Eddy Wong observes that interest in buying property for rental returns has diminished owing to the market slowdown. "Nowadays, property purchase is likely for one's own use as the rental market has slowed for the past several years," he says.
Nevertheless, there are still properties and locations with a reasonably healthy rental demand.
Good, established locations
According to Siders, there is a high correlation between location and properties with good rental demand. "It can be said that high-rise residential properties in good, established locations have always commanded a higher rental yield than landed residential properties, although in recent years, the disparity in yields between the two is narrowing owing to [the high] supply of available high-rise developments in the market."
Siders opines that a good location tends to give good returns, irrespective of the property type, although traditionally, high-rise properties derived higher yields than landed properties but the latter recorded higher capital appreciation compared with the former.
According to Siders, a good location essentially comes with amenities and facilities such as malls, international schools, private and public educational institutions, financial institutions, commercial hubs, entertainment zones, good transport and infrastructure systems such as rail networks, highways and expressways. "Residential properties with good access to public transport such as KTM, LRT and MRT stations, or transit-oriented developments, generally command higher returns.
"Properties with these attributes attract both buyers and tenants who prioritise smooth and cost-efficient commutes to their workplaces and educational institutions. This is very much evident in transit-oriented developments, where rents and prices of development tend to be relatively higher," he says.
Meanwhile, a good rental property, according to Eddy, is generally one that rents out quickly with low vacancy periods (periods in which the unit is vacant in between tenancies). "The rental yield is a function of the annual rent over the selling price. As such, if the property is able to command a higher rent, and therefore gives a higher yield, its price will correspondingly appreciate to reflect the higher demand owing to the improved cash flow.
"As a result of the now higher price, the yield will swing back mathematically and gravitate towards a 'market yield' reflective of the macro attributes of the property vis-à-vis its market segment and location. In other words, an equilibrium situation will be achieved in the medium term as any yield 'premium' will be absorbed and reflected in its higher prices," he explains.
According to Siders, properties with good rental demand in KL can still be found in established and older residential neighbourhoods such as Damansara Heights, Bangsar and Taman Tun Dr Ismail, residential developments along Jalan Klang Lama including Taman OUG, Taman Gembira, Taman Desa and Taman Kanagapuram as well as Taman Maluri and Bandar Sri Damansara.
"These projects were developed in the early days and were mainly low-density developments comprising terraced and detached houses. With land becoming scarce in these areas, the cost of development land has escalated, and developers have started building high-rise residential developments in the pockets of lands left vacant within these schemes."
Based on data from PPC International, a 784 sq ft unit in Gaya Bangsar with a current asking rent of RM2,200 to RM2,600 per month can enjoy average gross yields of 4% to 4.2% based on the current asking price of RM660,000 to RM750,000. At Glomac Damansara in Taman Tun Dr Ismail, a 1,100 sq ft unit with an asking rent of RM2,500 to RM3,000 and price of RM860,000 to RM880,000 can get average gross yields of 3.5% to 4.1%.
As far as good rental properties are concerned, Nawawi Tie Leung's Eddy says two city centre developments stand out — Pavilion Residences and The Manhattan in Jalan Raja Chulan, KL.
"There is also an active rental market for Infiniti Residences units in Wangsa Maju, reflecting the shift in market demand from predominantly expatriates to locals, who are opting to rent instead of buy owing to affordability issues as well as market uncertainty as a result of the pandemic," he adds, noting that the rental yields of these properties generally range from 4% to 4.5%.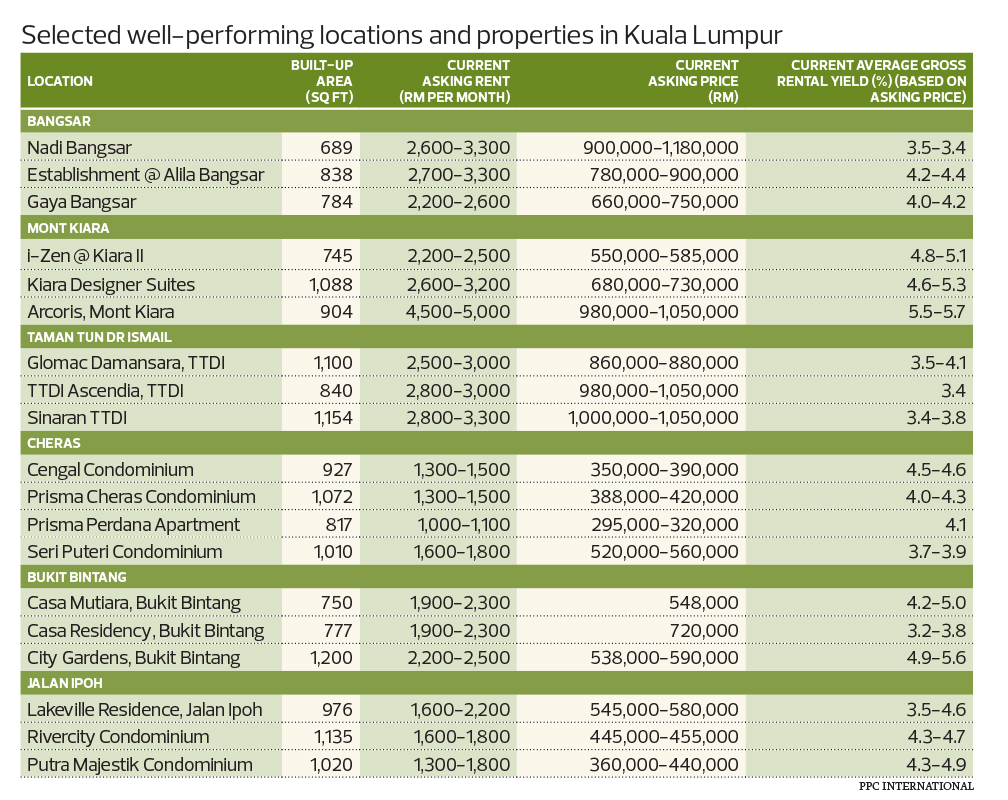 "In addition to being well designed with good amenities, these developments enjoy a locational advantage with good connectivity or, in the case of Pavilion Residences, it is part of the Pavilion Kuala Lumpur development, with direct access to the mall," says Eddy.
Pavilion Residences caters to a niche luxury segment of the market by offering larger units, with two-bedroom units ranging from 1,234 to 1,509 sq ft and three-bedroom units of between 2,013 and 2,645 sq ft. Transactions in 2019 saw prices ranging from RM2.1 million to RM2.3 million for two-bedroom units and from RM2.8 million to RM3.9 million for three-bedroom units, according to Eddy.
Investment properties that enjoy a healthy rental demand have traditionally been located in areas with a large expatriate population, such as the city centre, Taman U-Thant and Mont'Kiara, says Eddy. "Locations on the periphery, such as Jalan Ampang or Wangsa Maju, may enjoy the spillover effect by offering a lower-cost alternative to areas like KLCC," he adds, noting that yields in popular expatriate locations are typically 4% to 4.5%.
"These locations appeal to expatriates owing to their proximity to international schools, their workplaces and the availability of amenities such as speciality stores and supermarkets that sell groceries they are familiar with in their home countries," Eddy remarks.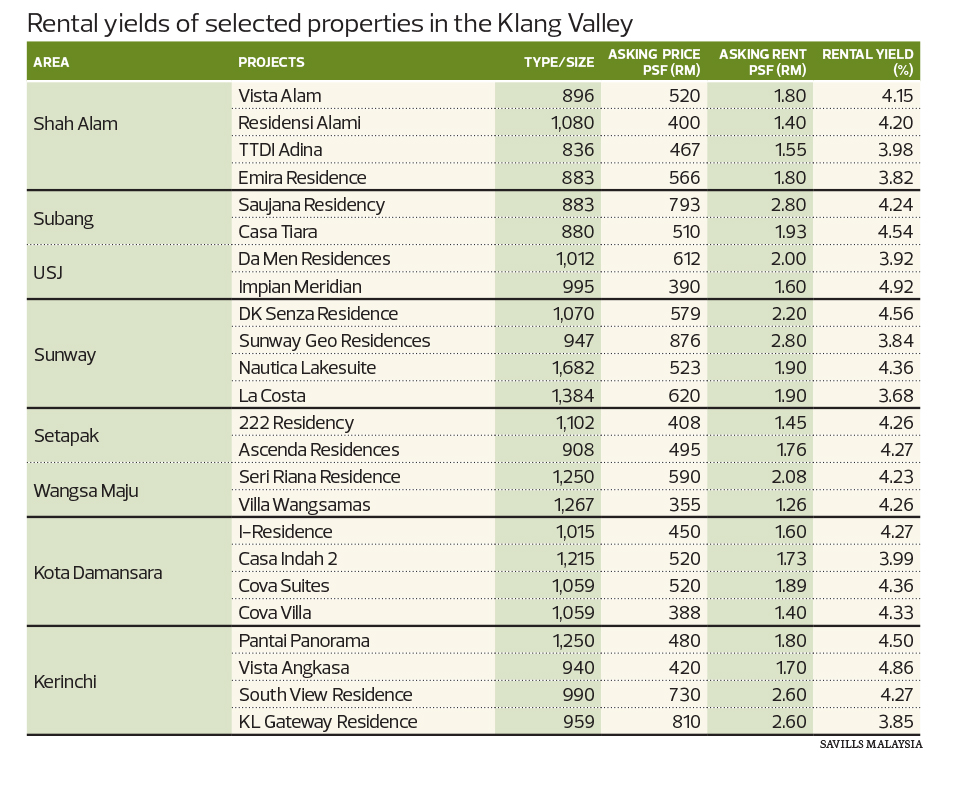 Capturing the student market
According to Savills Malaysia director of research and consultancy Amy Wong, areas located near universities and colleges are usually a good starting place to look at for investment properties. "These areas include Setapak, Wangsa Maju, Kerinchi, Kota Damansara, Subang/USJ, Bandar Sunway and Shah Alam," she says.
"Typically, investors can expect a rental yield of between 4% and 4.3% for a three-bedroom apartment in these areas — except in Shah Alam, where a two-bedroom unit would yield only about 3.9% per annum," she says.
Based on data from Savills Malaysia, three-bedroom units in Setapak/Wangsa Maju and Kota Damansara can command average rents of RM1.60 and RM1.70 per sq ft respectively whereas those in Kerinchi, Subang/USJ and Sunway are RM2.20 per sq ft. In Shah Alam, average rents of two-bedroom units are RM1.60 per sq ft.
"Other plus points for these areas include [being] near malls, offices and public rail transport," says Amy, noting that any return above bank deposit rates is considered a good rental yield.
According to Metro Homes Realty Bhd executive director See Kok Loong, areas such as Bandar Sunway and Subang's SS15, which target the student market, can give a good yield of 6% to 7%, depending on the capital value, whereas other better-performing areas such as Damansara, Ampang Jaya and Kota Damansara are looking at yields of 4% to 5%.
"Properties in these areas have been performing well because of the surrounding amenities such as private colleges and hospitals.
"Yields at Bandar Sunway are mainly contributed by the student market now as students have the highest disposable income from their parents," says See.
He notes that the medium-term outlook for the areas he mentioned is stable because of the schools and universities in the vicinity. "For example, Bandar Sunway is a long-term [development] for which there has been demand in the last 15 years."
According to him, a good rental yield generally gives a net 6% or a gross 10% from the capital value. "I use net [yields] because some of the student accommodations in areas such as Bandar Sunway have rents inclusive of utilities. For properties that are fully furnished with utilities included, a net yield above 6% is considered good," he explains.
See also notes that in Bandar Sunway, many operators have been renting the units and renovating them before subletting to foreign or outstation students over the past decade.
Other locations with good rental demand are near MRT stations and cater to young professionals, he says. "These properties are usually in the mid-end segment of the market or are selected projects in the high-end segment. The high-end segment of properties is mainly located in KL and targets the foreign expatriate community from the oil and gas, finance and banking industries — which have not been doing well in the last few years."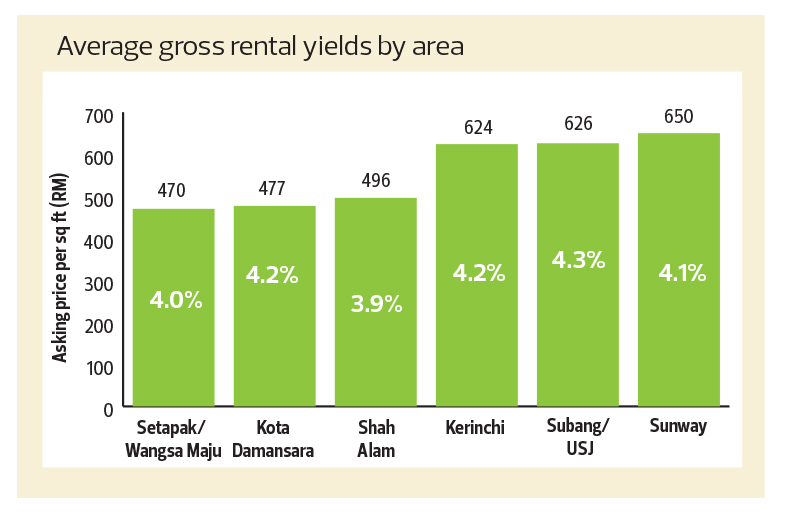 Mid-end segment of the market
According to Kim Realty CEO Vincent Ng, there are two segments of properties with more rental activity — those that command a monthly rent of RM2,000 and below as well as selected high-end condominiums and branded residences.
"While better-performing properties are from the mid- to high-end segment of the market, the high-end segment of the market is currently facing challenges, with few foreigners renting owing to border restrictions," he says. He adds that more affordable properties in the market could help boost yields in the future as the population continues to grow.
Ng also notes that most tenants would prefer properties near MRT or LRT stations that are less than 1km away. "Properties with better yields are always near transport infrastructure and conveniences and are usually high-rise properties. Although the location is very important, last-mile connectivity is still a problem in Malaysia."
According to Ng, areas such as Mont'Kiara, KL city, Bangsar and parts of Petaling Jaya are still sought after. "In today's market, people will be happy with yields of 4% to 5%. Of course, those who have entered the market years ago would be getting yields of 6% to 7% in areas such as Mont'Kiara, whereas current yields are closer to 3% to 4%. Now, because the interest rate is so low, the yield is around 4%, and [owners] are waiting for better days."
Meanwhile, areas such as Puchong and Bandar Sunway could see yields improving to 5% to 6% from the current 3% to 4%, depending on the proximity of the property to infrastructure, as commercialisation of these areas progresses, says Ng. "These areas also cater mainly to the middle-income group," he notes.
Other areas such as Ampang, Kota Damansara and parts of Kajang with new connectivity are also seeing good rental activity, says Ng. "Although high-rise properties get better yields than landed ones in general, linked houses in good locations can still command yields of 2% to 3%, especially those in gated and guarded communities. For example, linked houses in Kota Damansara that are gated and guarded are still sought after, as there are fewer high-rise properties in the area," he adds.