For long-time Cheras resident Emmanuel, the Taman Maluri and Jalan Peel of the 1990s were very different from what they are today. "There used to be some rumah papan in Taman Maluri, near Jusco, that housed two popular yong tau foo stalls. Back then, Jusco Maluri was super small — it had only two floors and was one of the few supermarkets in Cheras," he says.
This article first appeared in theedgemarkets.com. View source here.
"Next to Taman Maluri, there used to be a development called Queenstown. Sunway Bhd later bought the land, along with a few factories, to develop Sunway Velocity."
Covering an area of about 703 acres, Taman Maluri is one of the most prominent suburban locations in Kuala Lumpur, says CBRE | WTW group managing director Foo Gee Jen. It sits on the border of the city centre, adjacent to Pudu and Chan Sow Lin. Kampung Pandan, Pandan Jaya, Jalan Cochrane and Shamelin Perkasa are nearby.
"Maluri was part of the Chan Sow Lin industrial area but is now readily viewed as the suburb closest to Kuala Lumpur's Golden Triangle. JKR workshops and depots as well as the government printer were originally located in the area," says Foo.
According to Nawawi Tie Leung managing director Eddy Wong, there are government quarters on Jalan Cochrane and public housing (PPR Laksamana) on Jalan Peel, which is reflective of the general demographics of the residents here. In the 1970s, workers started to move out of these government quarters as the trend of homeownership gathered momentum.
"Consequently, part of the area was alienated to a property development company called Syarikat Maluri Sdn Bhd, which eventually launched Taman Maluri, which has become one of the most successful development schemes in Kuala Lumpur. Small businesses emerged as the population increased, followed by commercial centres and malls," says Foo.
Wong notes that Taman Maluri is known as the location of the oldest Jaya Jusco store (now rebranded as AEON) in Malaysia, which opened in 1989. "Meanwhile, Jalan Peel is known for its eateries, which attract the office crowd that work in the city and are looking for alternative lunch venues."
Riding the wave of Taman Maluri's development, the Jalan Peel-Jalan Cochrane area was next in line for urban regeneration over the last decade and is primed to become one of KL's newest residential and lifestyle hubs, says Foo.
Massive transformation
The area was originally home to low-level government workers, notes Foo. "This changed when Taman Maluri was launched and middle-income households began to move into the locality. The change in demographics came about with the redevelopment of the government quarters to accommodate the lower-middle-income households in Taman Maluri," he says.
He also notes that the presence of public, private and international schools, most notably Taylor's International School, is an indication of the rise in income levels.
"The population comprises mostly the working class segment, but this is rapidly changing with the redevelopment of the area and influx of new well-designed developments targeting the higher executive-class segment of the market," says Wong.
"The area is undergoing massive transformation. The completion of the mass rapid transit (MRT) Kajang Line with two stations in the area — Cochrane and Maluri — and improved connectivity have raised the appeal of this location.
The development of Sunway Velocity, an integrated development with residences, a mall and medical centre by Sunway Bhd, and MyTown (anchored by IKEA), which is jointly owned by Boustead Holdings Bhd and Ikano Pte Ltd, has transformed the area into a development hotspot, he says.
Sunway Velocity and MyTown mall have about 1 million sq ft and 1.1 million sq ft of net lettable area respectively.
"These developments have brought in developers that recognised the potential of this neighbourhood. There are 8,000 units of residences under construction. They are scheduled for completion over the next few years," says Wong.
To Foo, what has changed the most in the area has been public transport. While Taman Maluri was already well developed with these amenities, the construction of the light rail transit (LRT) in the 1990s and the recent MRT line have made travelling from Maluri to other parts of KL very convenient, he says.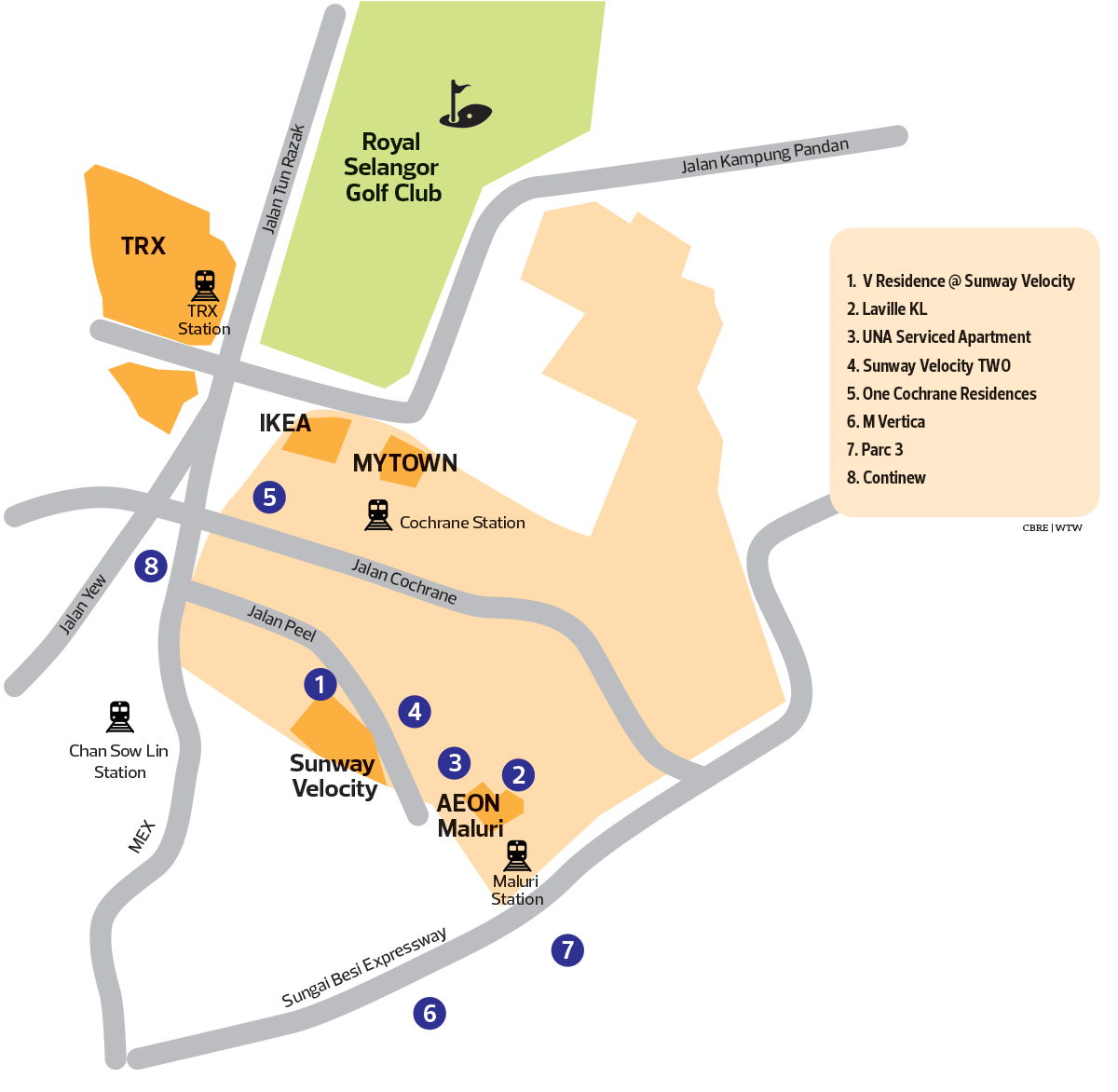 The Cochrane and Maluri MRT stations are located about 300m apart and near the Maluri LRT station. Other MRT stations within a reasonable distance include Taman Pertama and Taman Midah.
Several roads near Taman Maluri have also been upgraded. "The opening of the new Besraya Eastern Extension Expressway has effectively linked areas such as Serdang with Cheras," says Foo.
Farther south and east are a plethora of high-rise developments: Vistaria Residensi, Villa Seri Puteri, Pertama Residency, Villa Tropika @ Pudu Impian, Sky Vista Residensi Condominium, Bukit Pandan Condominium, Pandan Heights Condominium, Vista Perdana, Astaka Heights, Perdana Villa Deluxe and Perdana Villa. With the new MRT line giving the area a boost, Foo expects to see more high-rise projects.
"Taman Maluri will be a major KL retail hub. With a gleaming reputation, sufficient public facilities and new lifestyle developments, it is expected to attract more investors, homeowners and consumers," he says.
Growing property values
With new developments and new infrastructure, the area is seeing more demand.
"A testament to the strong demand is V Residence in Sunway Velocity, which has achieved prices above RM1,000 psf at launch. This has set a new benchmark in an area that used to command about RM400 psf not too long ago," says Wong.
"Prices have appreciated because of several factors. The location is very central, being close to TRX (Tun Razak Exchange), which is planned to be the new financial centre for KL. TRX is only one train stop away from the Cochrane station. As such, the area is primed to enjoy spillover demand for residences arising from those working in the TRX financial centre."
According to data provided by CBRE | WTW, as at December 2019, the average price for 1-storey terraced houses was RM420,000 versus RM267,500 in 2010, a price appreciation of 5.1% a year. Meanwhile, the average price for 2-storey terraced houses was RM826,500 in 2019, versus RM400,000 in 2010, a price appreciation of 7.4% a year.
In 2010, CBRE | WTW had records for only two high-rise residences, Amaya Maluri and Bam Villa, which commanded RM431 psf and RM180 psf respectively. Prices for Amaya Maluri and Bam Villa have appreciated to average RM685 psf and RM352 psf respectively, reflecting a capital appreciation of 5.3% and 7.7% a year.
"Prices for more recent launches such as Sunway Velocity have been volatile. Developer prices have been much higher than the prevailing prices of Amaya Maluri and BAM Villa. Current market sentiment has been further dampened by the pandemic," says Foo.
Meanwhile, semi-detached houses were sold at an average of RM1.6 million in 2019 compared with RM880,000 in 2010, an annual capital appreciation of 6.9%. According to Foo, some of the ongoing developments are Mah Sing Group Bhd's M Vertica (from RM560 psf), Eupe Corp Bhd's Parc 3 and, farther away, Beverly Group's 28 BLVD.
He notes that Parc 3 was redesigned and relaunched after the incorporation of smaller unit configurations at affordable prices to cater for a broader buyers' market. The development will benefit from the nearby Taman Maluri LRT interchange and MRT station, and the Pandan Jaya LRT station.
"Several residential projects are being developed on pockets of land amid the mega projects, including Trion by Binastra Land, Lavile Kuala Lumpur by Orando Holdings Sdn Bhd, UNA Serviced Apartment by Selangor Dredging Bhd and One Cochrane Residences by Boustead Properties.
"Looking at the wider area, more residential units are expected in the coming years, with major residential developments planned at the southern city fringe in Cheras and Sungai Besi, stretching along Jalan Loke Yew and Jalan Sungai Besi," says Foo.
CBRE | WTW estimates that 10,000 units will come into the market between 2021 and 2023. The completion of M Vertica, slated for 2023, is expected to bring in 3,684 units.
Future growth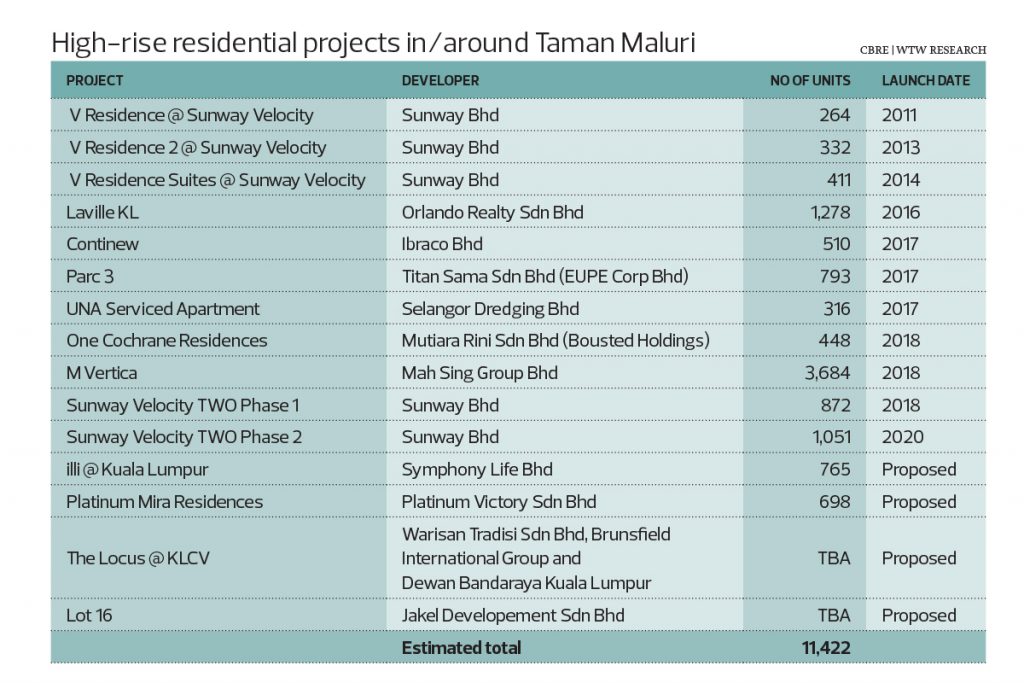 Wong believes that, while factors such as capital appreciation and improved infrastructure are exciting news for the rejuvenation of an area, the downside is that existing residents may be crowded out by the increase in property prices. "The challenges are the usual macro factors of an oversupplied market with poor affordability affecting the demand," he says.
"Those buying for their own use will be less affected with the low interest rate environment expected over the next couple of years, while it will help to make property purchases a little more affordable. Investors buying with the intention of renting out their units may find it challenging, with the large number of units being completed around the same time."
He adds that traffic congestion is another issue, owing to the increasing number of residents moving into the area.
Foo expects the rental levels to remain weak because of the sizeable number of units coming onstream in the next few years and the economic slowdown brought about by the Covid-19 pandemic. He notes that there are other downsides to development.
"The loss of open spaces and parks can result in a concrete jungle. The high density is likely to cause service deterioration of essential utilities such as water, sewerage, waste disposal and electricity," he says.
Foo observes that traffic congestion has increased rapidly over the years, which was mitigated by the Ampang LRT line, followed by the road upgrades upon the development of TRX and Sunway Velocity.
"However, the two underground MRT stations — Cochrane and Maluri — may not be enough to cater for the growing shoppers traffic and the expected new population from the upcoming residential high-rises as well as future developments in the locality. With many of the new projects being mixed-use developments, the issue of upkeep and maintenance fee allocation for such projects may require better solutions. It is a problem to be faced by all integrated developments in the Klang Valley," he says.
Despite these issues, Foo believes that Taman Maluri will become a major suburban location in KL, fuelled in part by the spillover demand for residences as TRX develops into a new financial district in the city centre.
"With the numerous retail and commercial components [in and surrounding Taman Maluri], job opportunities will attract workers to the area. Taman Maluri will be an ideal place to reside, owing to its proximity to the city centre, ample amenities and convenient public transport," he says.
"The younger generation are also attracted to the vibrancy and convenient access offered by the MRT and modern highways. In addition, the Putrajaya MRT Line and the Setiawangsa-Pantai Expressway will attract more visitors and residents to the area."
Wong is very positive about the future of this area. "The strategic location, proximity to TRX, access to amenities and connectivity are plus points for those looking for a good property to own," he says.
On a wider scale, Foo believes the urban regeneration of Taman Maluri, along with Imbi and Pudu, are steadily contributing to the modernisation of KL. He expects to see more high-end residences and transit-oriented developments emerge in these localities.